Hi ya'll!
I have a fun guest post lined up for today's What I Ate Wednesday shenanigans! I'm convinced I need to try this hot sauce pronto! Enjoy!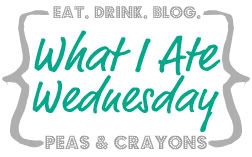 Hi to all of Ashley's readers! My name is Chelcie and I blog over at Chelcie's Food Files:
a blog dedicated to sharing my love of cooking, fitness, and life in college
Today I'm going to share with you my FAVORITE condiment of all time…
Sriracha Hot Sauce!
A little bit of information about the product:
" Sriracha is a type of hot sauce, named after the coastal city of Si Racha, in the Chonburi Province of central Thailand, where it was possibly first produced for dishes served at local seafood restaurants.[1] It is a paste of chili peppers, distilled vinegar, garlic, sugar, and salt." Source
Sriracha is a little bit thicker than the average hot sauce, and packs a lot of heat!
Below are some of my favorite ways to use Sriracha in my meals!
On top of curry – this hot sauce pairs so well with Thai food and Indian food dishes!
On top of my Mexican Sweet Potato bowls!
As salad dressing – A squirt of Sriracha and lemon juice is a great combo for a light salad dressing…or Sriracha mixed in plain hummus!
On eggs – this is my favorite way to use Sriracha. Every time I make eggs for breakfast I load on the Sriracha sauce. I guess you've realized by now I'm not afraid of some heat!
In stir fry's – Sriracha also goes well with Asian flavored foods like stir fry's, fried rice, etc.
****
Sriracha is sold in supermarkets everywhere, usually found in the Asian foods aisle.
I hope you give this product a try and thanks to Ashley for letting me guest post!
I hope you take a visit over to my blog!
<3Chelcie
Questions:
Have you ever tried Sriracha?
What is your favorite condiment?
Are you a fan of spicy food?