It's Monday already?! Whaaaat?
Well regardless of the fact that the weekend went by way too quickly, here we are at the beginning of a new week. At this rate, I have a feeling October may just fly by even faster than September. Crazy.
You may have noticed that new recipes here on My Food 'N' Fitness Diaries have been pretty… umm? Nonexistent these days? I'm no food blog, but I do like to create some recipes here and there and then share the decent ones with you. Unfortunately my creativity juices just haven't been flowin' much over here lately. I'm sure they'll return at some point. In the meantime, I've been making other people's fabulous recipes. Below are some of my recent favorites that I insist you must try!
Banana Bread Protein Pancakes (by Julie @ Peanut Butter Fingers)
I just talked about these this weekend, but they are definitely worth mentioning again. These pancakes are easy to make, full of healthy and real ingredients, satisfying, and delicious to boot!
PB&J Energy Bites (by Paige @ Your Trainer Paige)
These little guys are the perfect on-the-go snack. Not to mention they taste like a delicious PB&J sandwich in one little energy packed ball. Plan ahead and make these healthy snacks for a busy week!
Roasted Potato Broccoli & White Bean Soup (by Chelsey @ Clean Eating Chelsey)
This soup is hearty and very filling. It is chalk full of vegetables and protein but doesn't taste like your traditional "healthy" soup. It's the perfect soup for a rainy day!
Black Bean and Butternut Squash Burritos (by Angela @ Oh She Glows)
Initially I wasn't sure how these flavors would all go together, but I was pleasantly surprised when all was said and done. I would even go so far as to say that this is one of the best recipes I've tried in a long time. I'm already looking forward to making them again!
[photo by Angela]
Fall Harvest Salad (by Lauren @ Say What You Need To Say)
I've said it once, and I'll say it again… This salad is downright amazing. It is bursting with fall flavors and produce, and it won't leave you disappointed! So good!
Crispy Southwest Chicken Wraps (by Mel @ Mel's Kitchen Café)
These little wraps reminded me a lot of good ol' Chipotle burrito. Needless to say, they were a favorite in our house!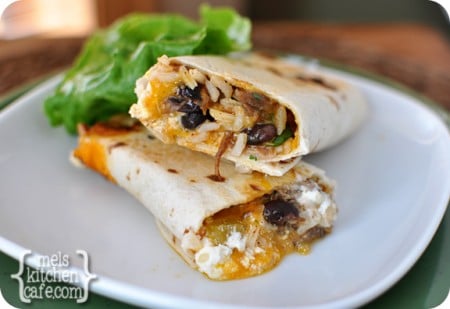 [photo by Mel]
Baker's One Bowl Brownies (by Baker's Chocolate)
I was craving brownies last weekend and had some leftover Baker's Unsweetened Chocolate so I searched Baker's website for an easy brownie recipe and came across this one. These brownies will knock your socks off! Cody and I loved them so much that I made them again this weekend to bring to our friends' house on Saturday evening. Definitely a winner!
[Not the actual brownies… This is actually these.]
So there you have it… Some of my favorite recipes as of late! Do yourself a favor and try a few (or all!) of them out!
Have a great start to your week!
Questions:
How often do you use recipes you see on blogs or websites?

What are some of your favorite recipes lately?