Happy Wednesday my friends!
Let's jump right into some food chat, shall we? Because we all know I love to talk food.
Some foods I've been loving lately:
Butternut squash
I think butternut squash is my very favorite kind of squash. It's so rich in flavor without having to add hardly anything to it. It's been on sale at our grocery store a lot lately, so we've been eating lots of butternut squash around here. My favorite way to eat it is tossed in olive oil, garlic powder, salt and pepper, and roasted in the oven. Mmmm, so delicious.
Halloween candy
This is a given, right? I'm not going to lie, having a toddler is pretty awesome. There's no way he's going to eat all of his candy (or hardly any of it for that matter) which means his daddy and mama get to help him out.
I'm kind of picky about my candy choices though. My top favorites: Reese's Peanut Butter Cups (not pictured because my husband ate them all before I got to them – stinker); Butterfingers; Snickers; Peanut M&Ms.
Pumpkin
I want ALL the things pumpkin! Thank goodness it's everywhere so I have no problem getting my hands on it. Last year I didn't feel it as much for some reason, but my love for it is back full force this year. I add it to muffins, cupcakes, oatmeal, smoothies, you name it.
Trader Joe's Tomato Soup
This soup has been my favorite for years. Every year when the temperatures cool down, I reach for it at Trader Joe's. Pair it with a grilled cheese sandwich and you're golden.
Peanut Butter & Co. White Chocolate Wonderful
This stuff… Man oh man. It's CRACK. It's never just one spoonful with White Chocolate Wonderful (because yes, eating it straight from the jar is the best way to go); it's three spoonfuls at minimum for this girl. Needless to say, I go through these jars in no time. Needless to also say, I need to start working on that whole self control thing with this stuff. It's nearly impossible, I tell you!
Grapes
I go in phases with my top favorite fruits and lately I've been all about the grapes. I got some from Trader Joe's on Monday and they are totally hitting the spot. Sweet and crunchy are mandatory when it comes to a good grape, and these have just that.
Breakfast Cookie Dough Cereal
I ate this nearly every day straight for months until I started mixing things up more for breakfast a few months ago. Just recently, Breakfast Cookie Dough Cereal has come back with a vengeance and I'm loving every bite.
I've noticed the protein powder I use in it makes ALL the difference. When I got the opportunity to try Les Mills Good Protein, I knew I had to try it in my beloved Breakfast Cookie Dough Cereal. Verdict? Amazing. I can't sing enough praises about this protein powder. Les Mills just launched it last week, and I'm so excited to be sharing it with you guys. You know how much I respect Les Mills, so when I heard they were coming out with a nutrition line, I had no doubt it'd be top notch.
Directly from Les Mills about their Good Protein…
"LES MILLS™ Good Protein is low carbohydrate, dairy-based protein powder, sweetened with stevia leaf extract. It contains the same ratio and types of proteins found in real milk, whey and casein. Whey gives a fast release of amino acids, and casein provides a slower release over several hours. Together, they provide optimum muscle recovery. LES MILLS™ Good Protein is protein as nature intended."
A few of my personal favorite things about the protein powder:
It only has SIX all natural ingredients.
The nutrition facts are awesome – low in carbs & packs 26 grams of protein in only 128 calories!
Amazing taste and texture – it doesn't taste artificial or chalky to me at all.
It blends well with everything I've tried – milk, water, almond milk, smoothies, oats.
I'm excited to announce that Les Mills is giving away two bags of their Good Protein (one of each flavor – chocolate & vanilla) to one of YOU lucky peeps! These bags are valued $69/bag (a little steep, but totally worth it in my opinion!), so you don't want to miss out on this giveaway. Enter the giveaway using the widget below.
Edited to add: Giveaway open to U.S. residents only. Ends at midnight on Friday, November 7, 2014.
You can purchase your own Les Mills Good Protein HERE. Also feel free to watch this video to learn more about Les Mills Good Protein. Lastly, here's some FAQ about the protein powder if you're interested.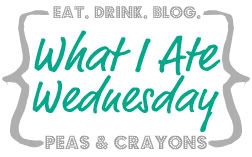 Linking up with Jenn's WIAW party!
What foods have you been loving lately?
What are some of your favorite ways to use protein powder? (If you answer this question, be sure to submit your entry for the giveaway in the widget above!)
Disclosure: I received two bags of Les Mills Good Protein as being part of the Les Mills Blogger Team. I agreed to write a review post in exchange for the product. All opinions are honest and my own.